Who doesn't wish to look fit and smart? Shed those love handles and chuck a dress size number! The key is to start looking for a weight loss center near me. Especially for those of you living in this City of the Lights. The New York City. Full of energy, fast-paced, and a highly demanding mistress.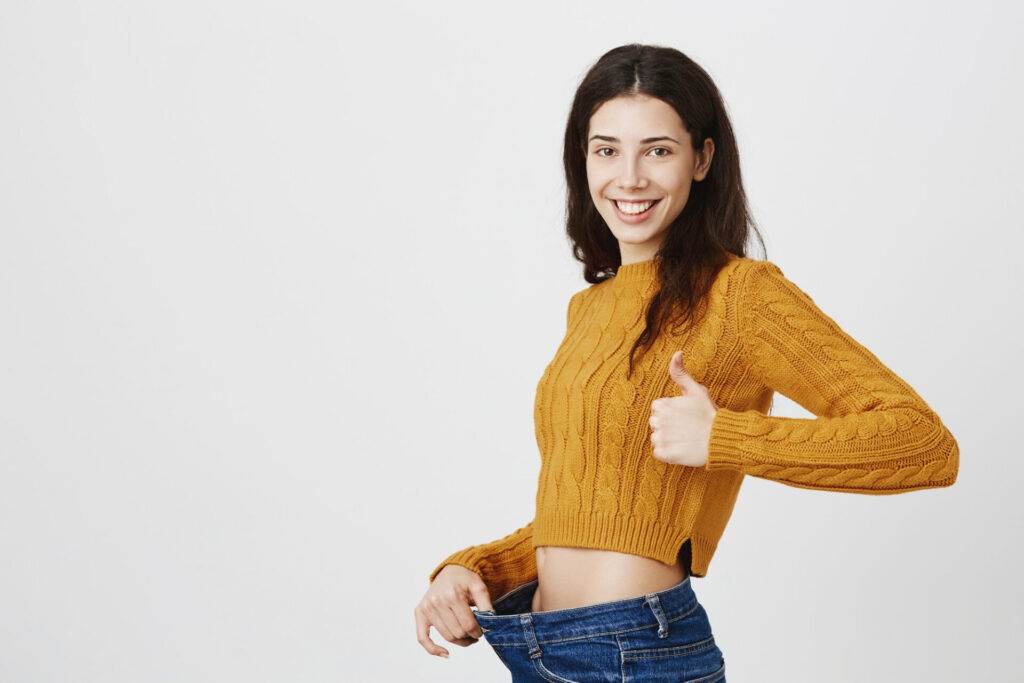 Some say if you wish to lose weight, just shift to New York, since here you walk everywhere! It really is a walk-supportive city, no arguments there. Taking cabs regularly can get expensive, and taking the subway means s climbing several mountains of steps. Many New Yorkers may relate to this feeling of stress because of the overwhelming crowds at their backs.
But walking alone does not work for everybody. More than 30% of Adult New Yorkers are overweight, and more than 20% are obese, according to the latest government stats. Even children are not showing a healthy weight in New York City.
Just remember, it's not OK or cool to be overweight or obese. Fat people, including adults and children, face a greater risk for multiple potential diseases.
In addition, the mental benefits of joining a weight loss center or camp are immense. A slimmer and fitter version of you improves your self-esteem and self-confidence.
Did You Know?  
Let's move from New York City to NY State obesity stats. New York is made up of 63 counties. If you compare the obesity percentages spanning 2012 to 2022 for all these counties, you will be amazed to know only one county, Putnam, reduced it's score by two points. Meanwhile, Seneca was the only country to keep its population's obesity % static.
This surely is a wake-up call for everyone in New York City or the state who knows they are not that slim or fit. Each should consider; which is the best weight loss center near me?
It's not just slimming down; staying fit afterward needs a complete lifestyle change. A trusted and reputable weight loss center paves the way to assess your weight loss needs and molds its program accordingly to facilitate you to the fullest.
Let us help you in your quest of searching for the perfect weight loss center near me in NYC. Below are the 5 most lauded weight loss center in New York City, with their relevant, pertinent details.
Weight Loss Clinic, NYC: Dr. Vadim Surikov
Address: 211 East 43rd Street Suite 1704, New York, NY 10017, United States
Phone: +1 347-599-9118
You can't get a better weight loss center than this. Since Dr. Vadim Surikov believes in natural weight loss treatment. No need to go on strict diets or do tireless hours in the gym just to lose those unwanted pounds.
Established in 1989, this clinic offers you Dr. Vadim Surikov. An extraordinary weight loss physician in New York who specializes in providing weight loss services quite different from other such programs.
First, he conducts a complete medical checkup and then prescribes medicine to control your appetite. Still confused about whether I am choosing the right weight loss clinic near me. Think again. You don't need surgery or stress here. In fact, you can eat all your favorite foods with minor changes from the clinic and still shed those pounds.
Moreover, the great doctor follows up with a customized food plan matched to your weight loss needs monthly. His weight-loss solution will let you make excellent eating choices as part of a healthy lifestyle. What he does is that he stops your unhealthy food cravings by identifying 3 types of hunger in a person and their triggers; mental, physical, and emotional.
Vadim Surikov's unique strategy lets you eat food you like, and you eat less. Ta-da, you start losing weight just like that. No need for a constant inner battle to control food cravings.
Their patient testimonials and multiple online reviews speak for themselves.
Services:
Thorough Medical Examination
Appetite Suppressants
Medically Supervised Plan
Appetite Control
Prescription Medication
Alternate Supplement
DR. FAT LOSS
Address: 1736 86th Street, Brooklyn, New York City, NY 11214
Phone:  855-537-3285
Losing about 45 lbs in just 40 days is their tried and tested claim, as shown by the photos of their previous clients. What kind of weight loss center is this? You must be imagining. The answer is one that gives you 'Guaranteed' results with no shots, no surgery and no drugs. Wow, right! Stop guessing about the best weight loss clinic near me with Dr. Fat Loss at your service.
Dr. Fat Loss is undoubtedly one of America's leading fat loss experts. With a start in 2013, they provide a scientific and safe approach to healthy weight loss. Even the great doctor himself shares his weight loss journey on his website. They help you in 3 significant steps.
Body Composition Analysis
For your in-office or remote visit, you get a consultation and evaluation, including your medical & family history. A computerized body composition analysis is also conducted, which gives findings about many things:
Weight
Body Mass Index (BMI)
Body Water Percentage
Basal Metabolic Rate
Metabolic Age
Daily Calorie Intake and many more.
Personalized Weight Loss Plan
You get a weight loss plan that makes you healthier in the long run, along with helping you lose weight. This helps remove toxins from your body and get your hormones in balance. You enter a fat-burning zone, resetting your metabolism.
Unlimited Support
You get zero prepackaged foods and instead get the real deal; fruits, proteins and vegetables. You also get full follow-up support and check.
Services:
Consultation
Body Composition Analysis
The personalized and customized program,
Health Transformation Program
NYC Weight loss Solutions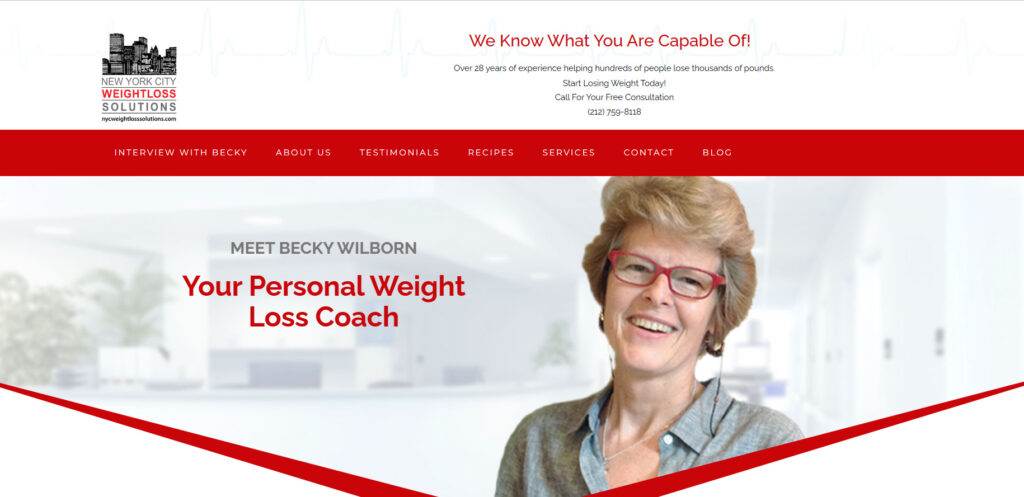 Address: 120 E 56th St, New York, NY 10022, USA
Phone: +1 212-759-8118
NYC Weight loss Solutions is your ultimate go-to weight loss center. They renamed themselves, with the last name of Diet Center and trace their history back 28 years.
The name change targeted an NYC individual's diverse needs on their weight loss journey. Their program is designed following healthy weight-loss practices.
You get professional guidance from the staff. This is not just another diet. You get the perfect tools for a lifestyle change to turn your health around for the better.
One-on-one coaching, metabolism makeover diet plans and programs for men and women are the prominent features of this reputable clinic.
Becky Wilbron, the head weight loss coach, shares that people do not always come to lose weight. Instead, they just want to learn how to eat healthily.
Their testimonials support them as a perfect choice, smoothly joining the list of the best weight loss clinic near me.
Services:
Customized Diet Solutions
The Ultimate Fat Burner
Lose Weight the Healthy Way
Metabolic Makeover
Medi- Weight loss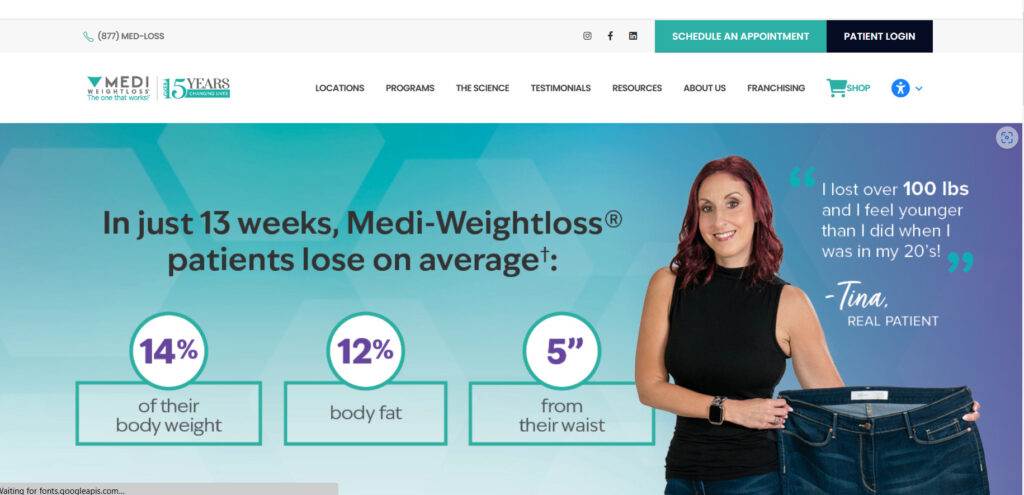 Address: 115 East 57th Street Suite 1450, New York, NY 10022
Phone: (212) 203-7098
What if you wanted a weight loss program developed and run by a group of quality licensed physicians and professional dieticians? Then Medi-weightloss is the right place for you.
Losing 10 pounds in the first week is their promise nowadays. Furthermore, the aim is to help you manage your fat intake while preserving your muscle mass with ample dietary protein.
The Medi-Weightloss Program leads to a positive lifestyle change healthwise. Because Medi-Weightloss experts consider every patient's health profile minutely during their treatment.
No wonder the program works with its unique approach toward its patients, as proved by the claim that their 300,000+ patients were satisfied.
With 100-plus locations across the USA, you get a medically supervised weight loss program that uses real food to control your weight gain.
Services:
Medi-Weightloss® Program
Medi-Weightloss® DM
Medi-Weightloss® Adolescent Program
Medi-Weightloss Signature Menus®
Corporate Wellness Program
MediLiving – Preventive Medicine
Weight Loss, NYC: Dr. Aron
Address: 7032 4th Ave, Brooklyn, NY 11209, USA
Phone: +1 718-491-5525
Whether overweight adults or obese teens, Dr. Aron Medical Weight Loss Center has got you covered. They even treat high blood pressure and cholesterol patients to safely shed those unwanted calories.
This program is run by a licensed Bariatric Physician in New York. Dr Aron. Her special training in Bariatric Medicine distinguishes her from other weight loss specialists.
This program particularly deals with patients who tried other weight loss methods and failed, or those who lose weight temporarily but gain it back in a jiffy.
With its comprehensive and non-surgical approach to treating obesity, Weight Loss NYC is helping numerous New Yorkers improve their overall health and weight loss goals.
Weight Loss NYC also offers prescription and non-prescription solutions and is fluent in English, Spanish, and Russian. You get a custom-designed weight loss plan according to your health needs.
Services:
Body Fat Analysis (BCA)
Diet and Nutritional Counseling
Metabolic Testing
Vitamin B12 Injections
Comprehensive Physical Examination
Lifetime Weight Maintenance Program and Natural Supplements
Parting Thoughts
Sitting at home, just wondering about the most suitable weight loss clinic near me will not change your fate or mental and physical health. If you consider yourself overweight or obese, so what? Stay strong and just contact any of those mentioned above, 5 best weight loss center around New York to turn your life around for a healthier you.
It's not about losing weight. It's about eating and living healthy, so you don't ever gain weight while eating all your favorite foods. Joining a weight loss center can be the best baby step you ever take in life.